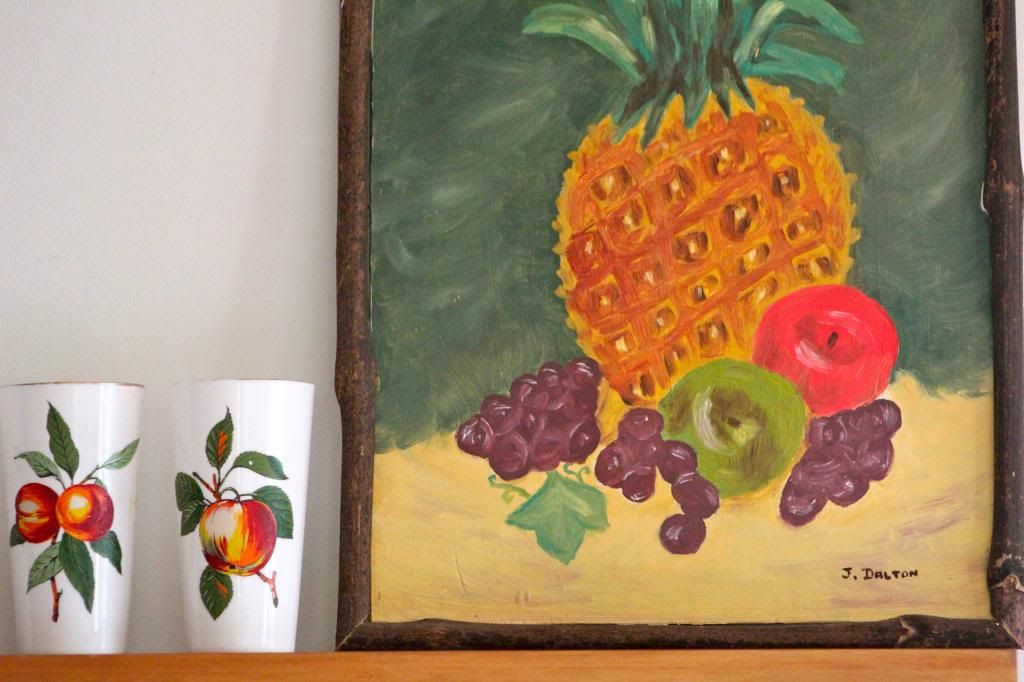 There are no real 'rules' for retro decor and that's why it's so much fun! My home is always a work in progress...and the best part about decorating retro is that it's actually realistic on a very tight student budget. When you're first getting into thrifting for items for your home, it can take a little trial and error to find the 'right feel' for you...and that's ok! Have fun in the process!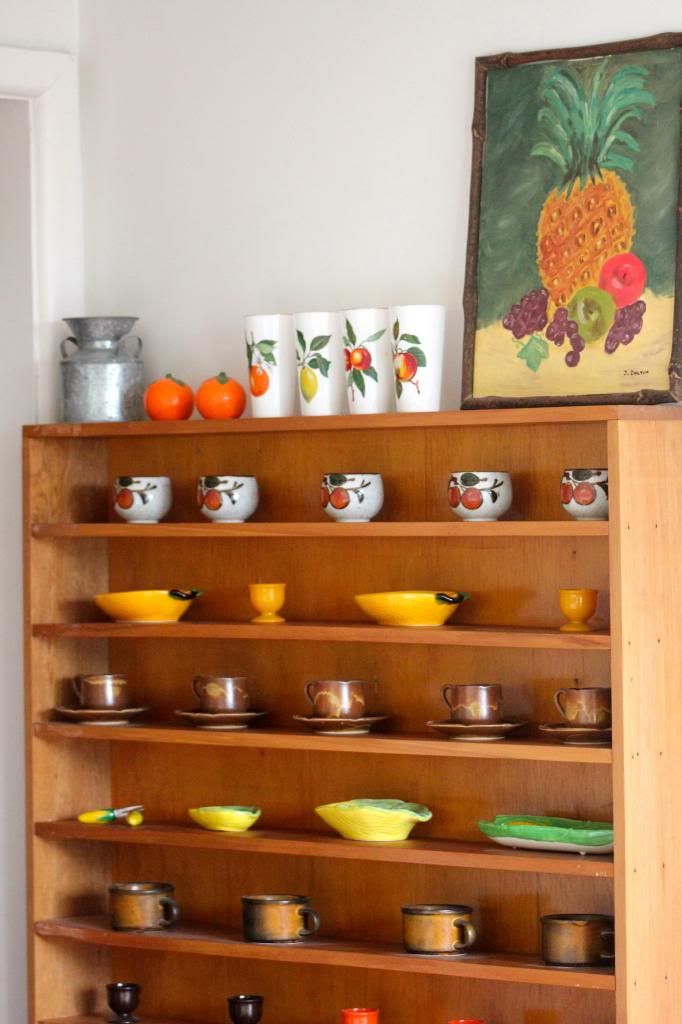 Shelving With a Theme
Don't be afraid of colour! Pick a colour scheme that you particularly love. It could be a collection of contrasting colours like yellows and blues for example, or something that fits with colours already existing in your home, once again there are no 'rules' here.
Here, I've chosen bright warm tones with an occasional splash of random colour to go with my 'fruit and vegetables' theme. The starting point of inspiration for this shelf began with one painting. The beautiful fruit still life sitting on the top, painted by Andrew's Nana. From here it was easy picking pieces that synergised with colours in the picture, and most importantly kitschy fruit and vegetable kitchenware!
The great thing about adding colour to your home with objects, is that it is not as dramatic a step as painting an entire wall or walls but it still packs a colour punch! (which is very easy and cheap to pack away into boxes and replace with something else if you so desire!)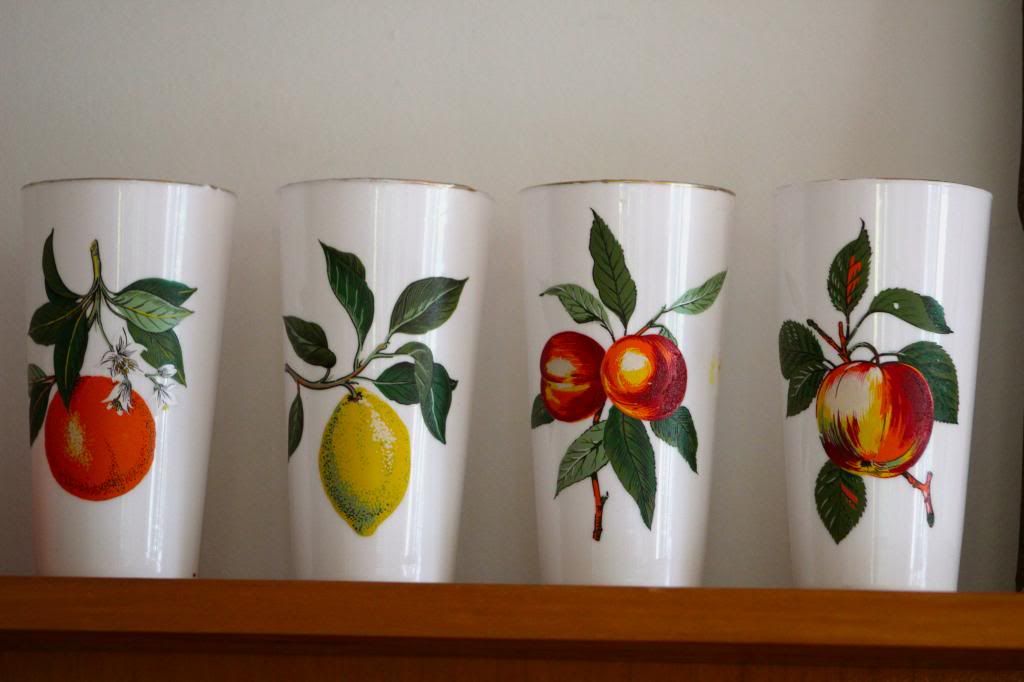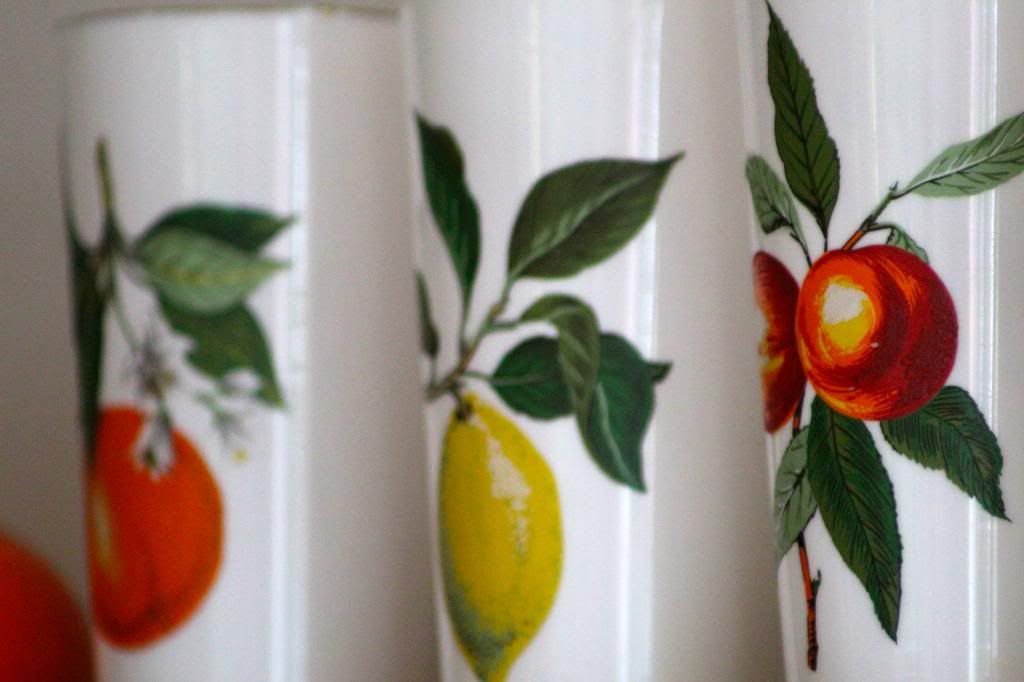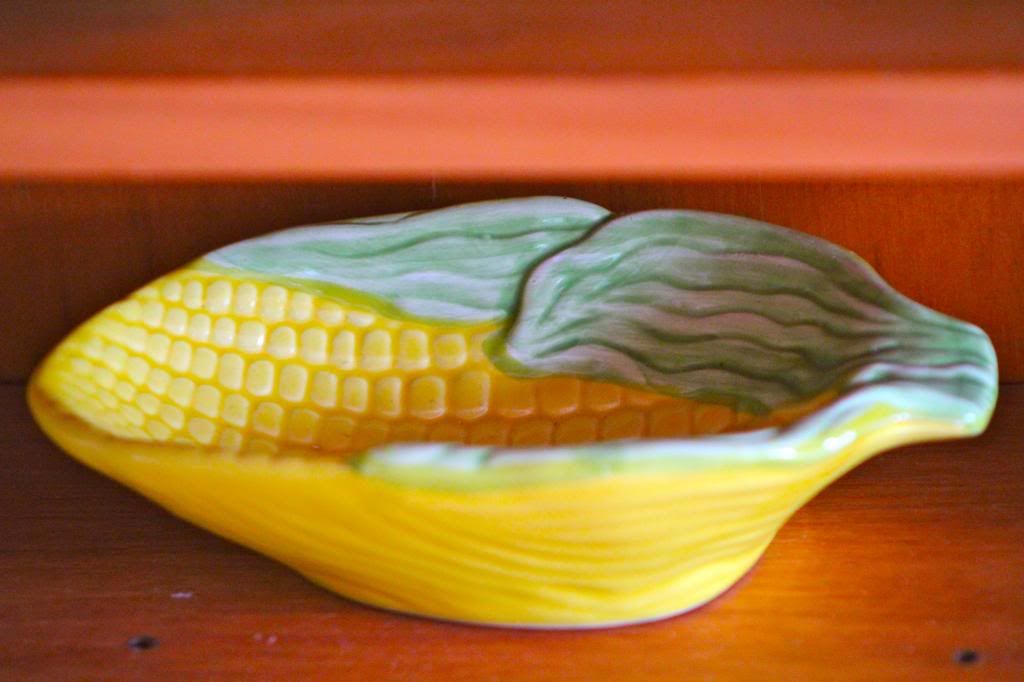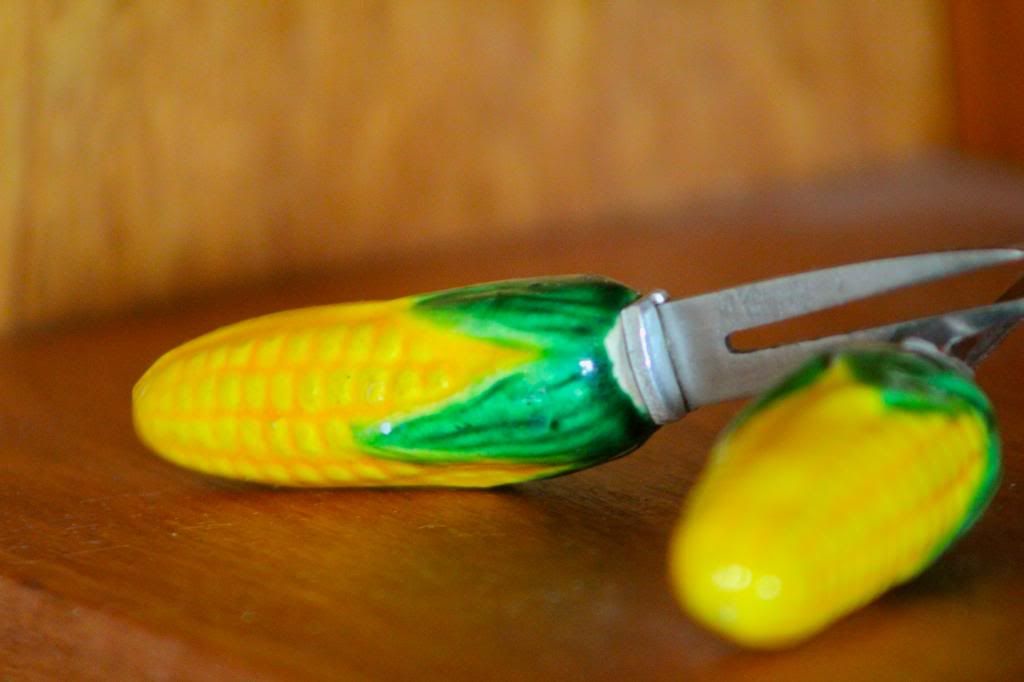 Statement Pieces
Keep an eye out in thrift stores for pieces that just scream the look you are after! After we inherited the painting from Andrew's Nana, I noticed these unusual fruity porcelain drinking cups in the back of an antique store in the Wairarapa for $5! I thought they matched the painting perfectly! Then a while down the track I kept stumbling upon $1 ceramic sweetcorn pieces. It's always good when you are on the hunt for decor pieces that you have a specific look or theme in mind (In this case, fruits and vegetables) Otherwise you can end up going home with very pretty, but un-matching bits and bobs which are no good to really go anywhere!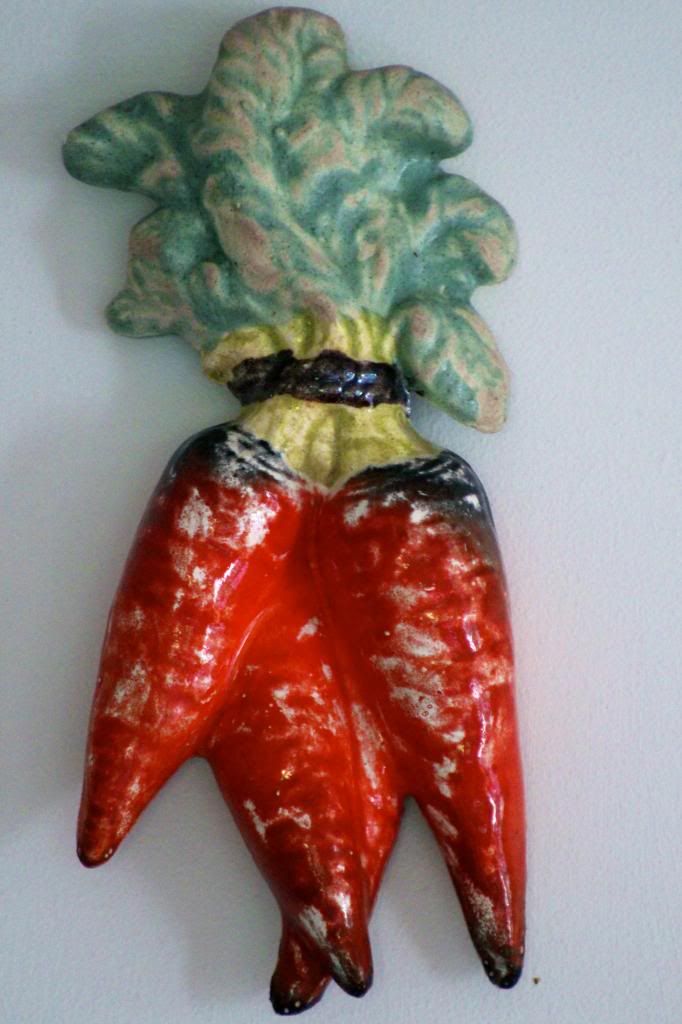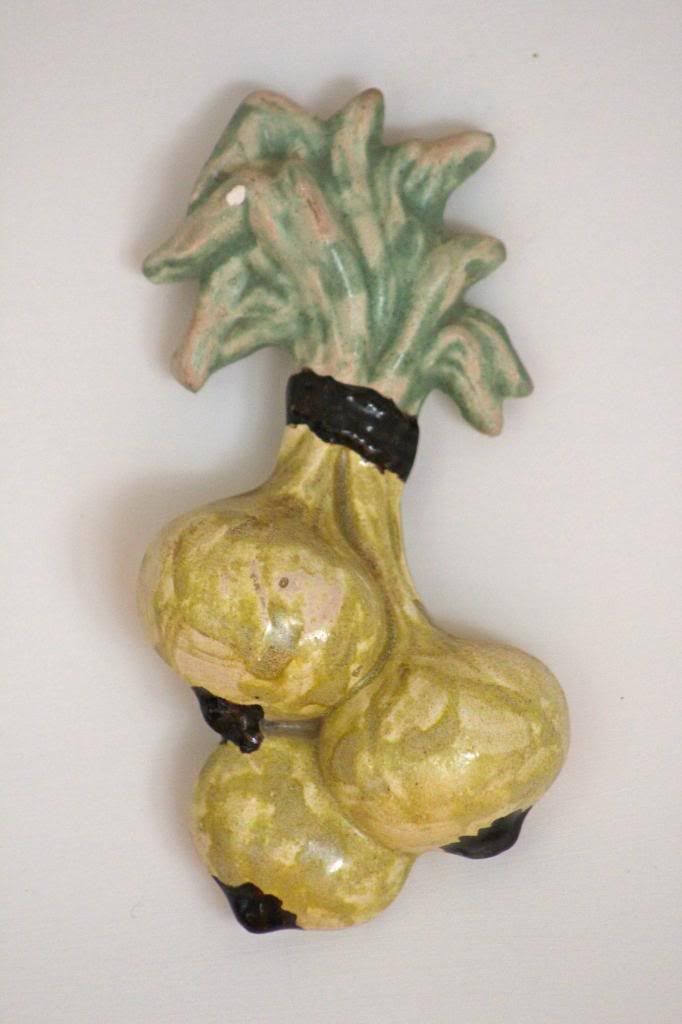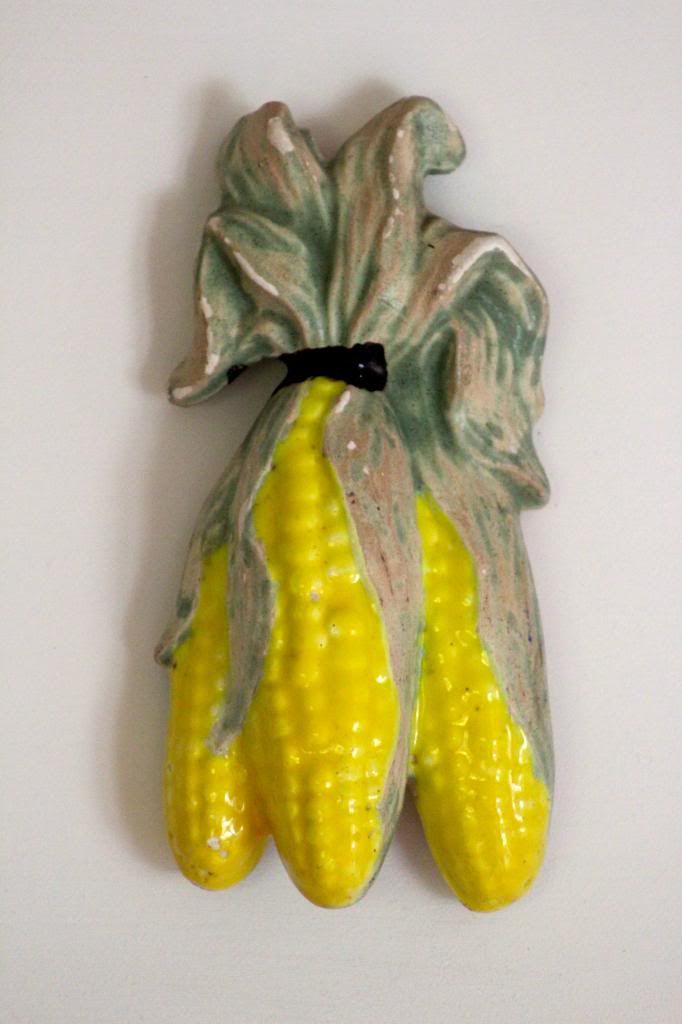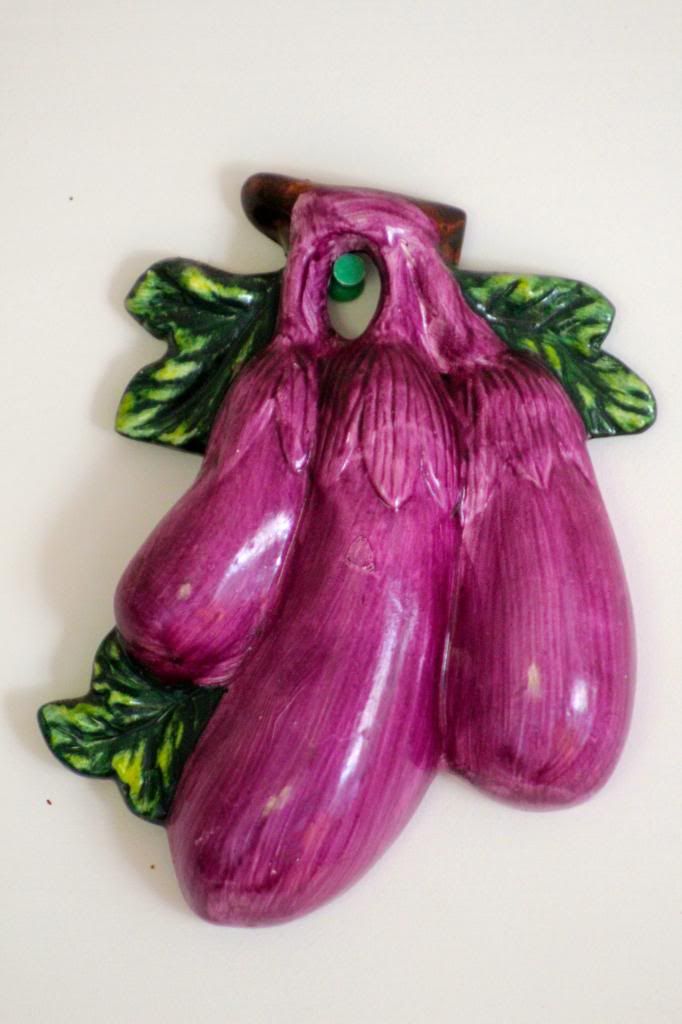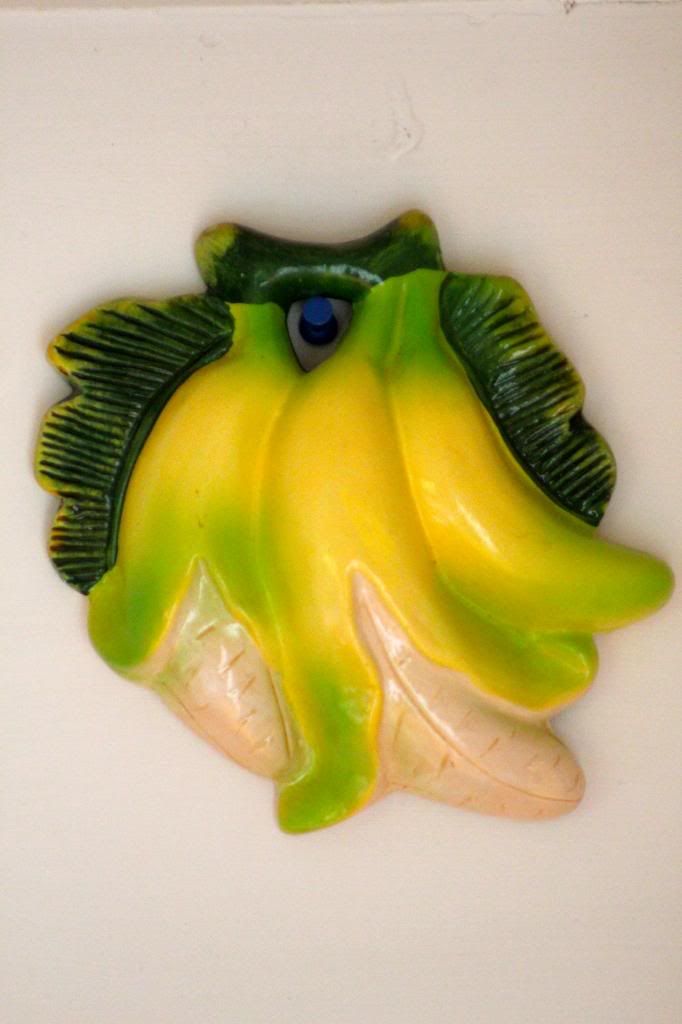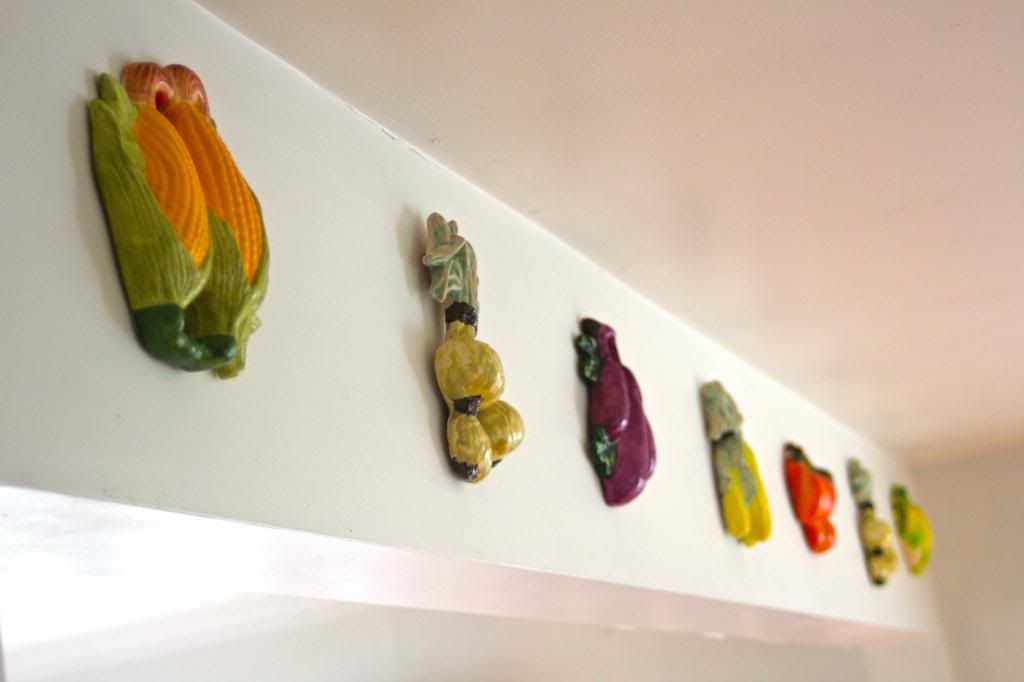 Be a Little Crazy.
Let's be honest. Nailing ceramic fruit and vegetables to the wall is a little nuts.
But that's just how I like it! I believe that our homes and how we choose to decorate them are an extension of our personalities, so if I am bit silly and fruity (excuse the pun) one of my walls can be too!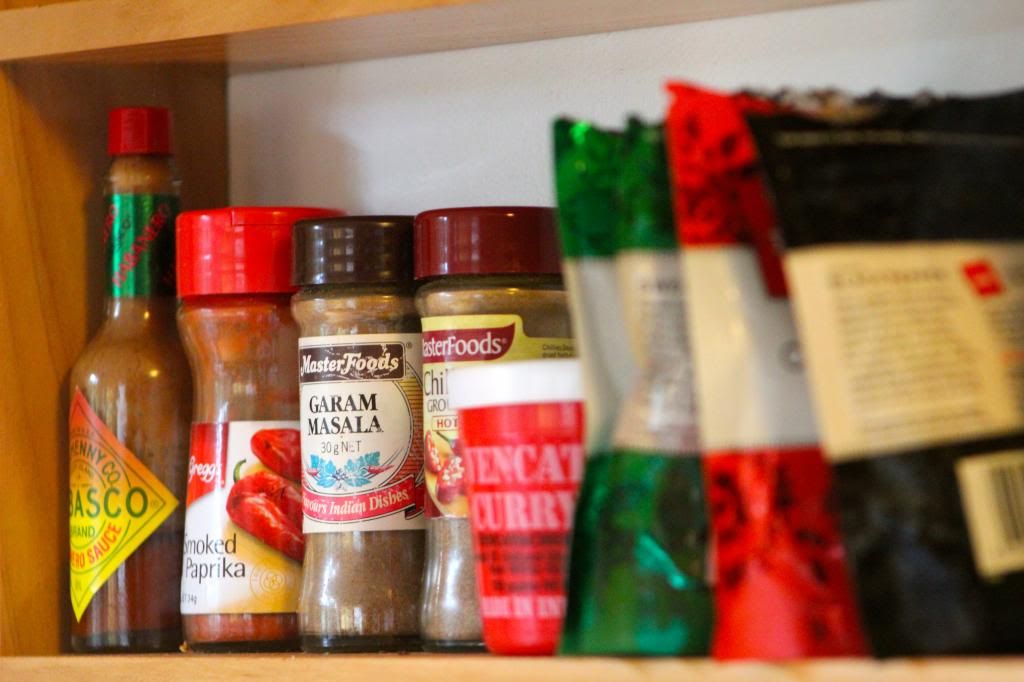 Put Unexpected Things in Unexpected Places
This beautiful spice rack was handmade by family as a 21st gift for Andrew. It has specific dimensions to fit all of the general sized spice jars, boxes and packets you find in New Zealand. Don't be afraid to put things in your kitchen that you wouldn't normally expect, like these tiny figurines. My favorites are the tiny forest green depression glass tea set that I found at a vintage market, and the little Buddha's Andrew bought back from Vietnam.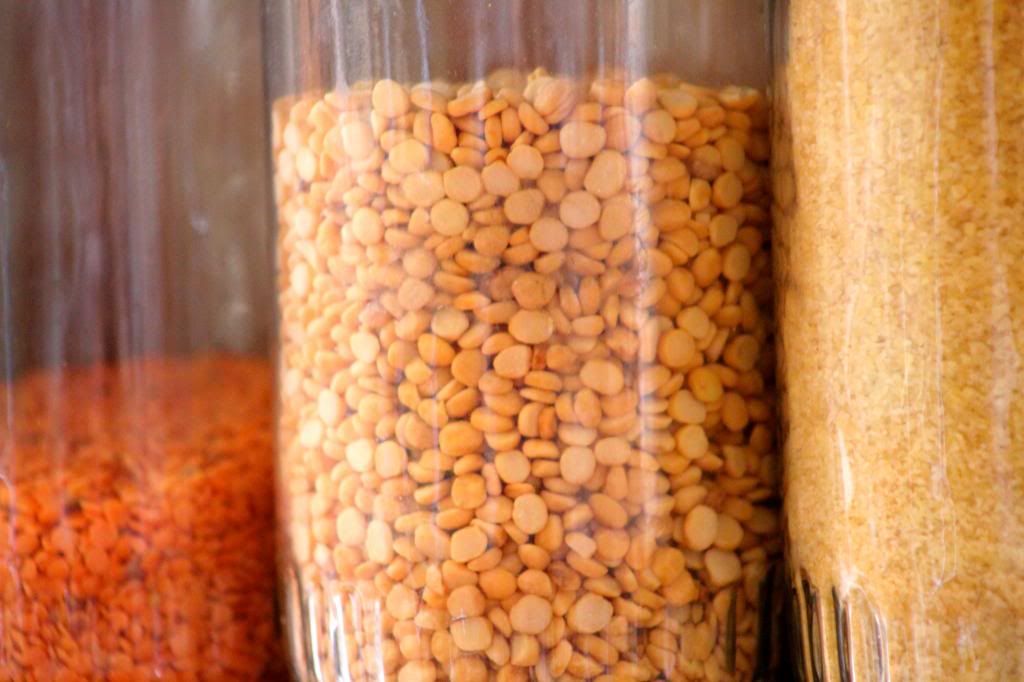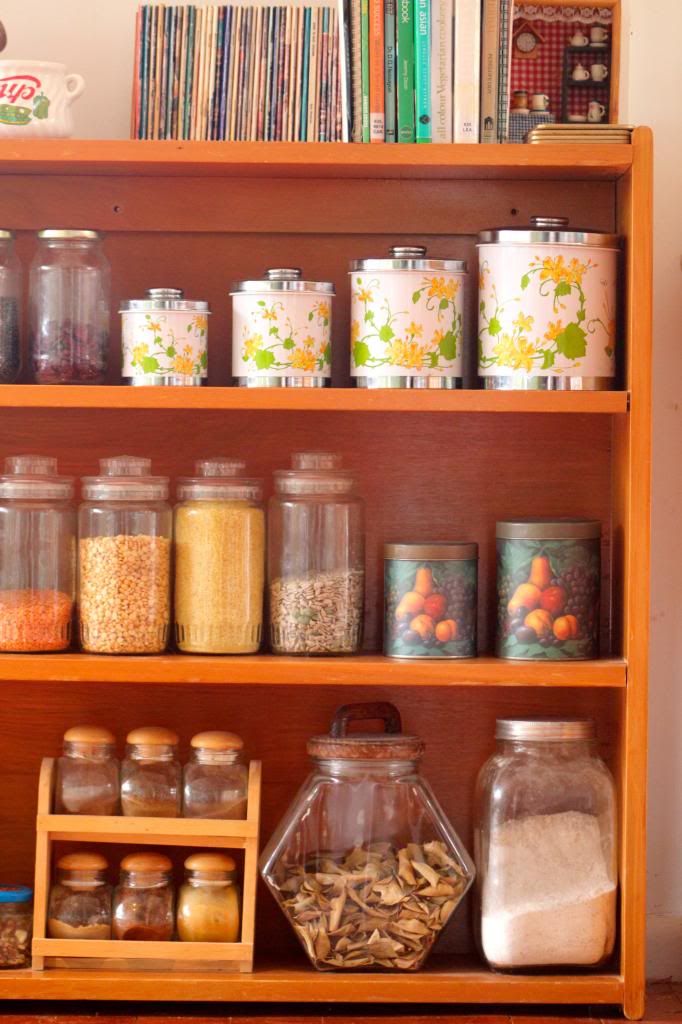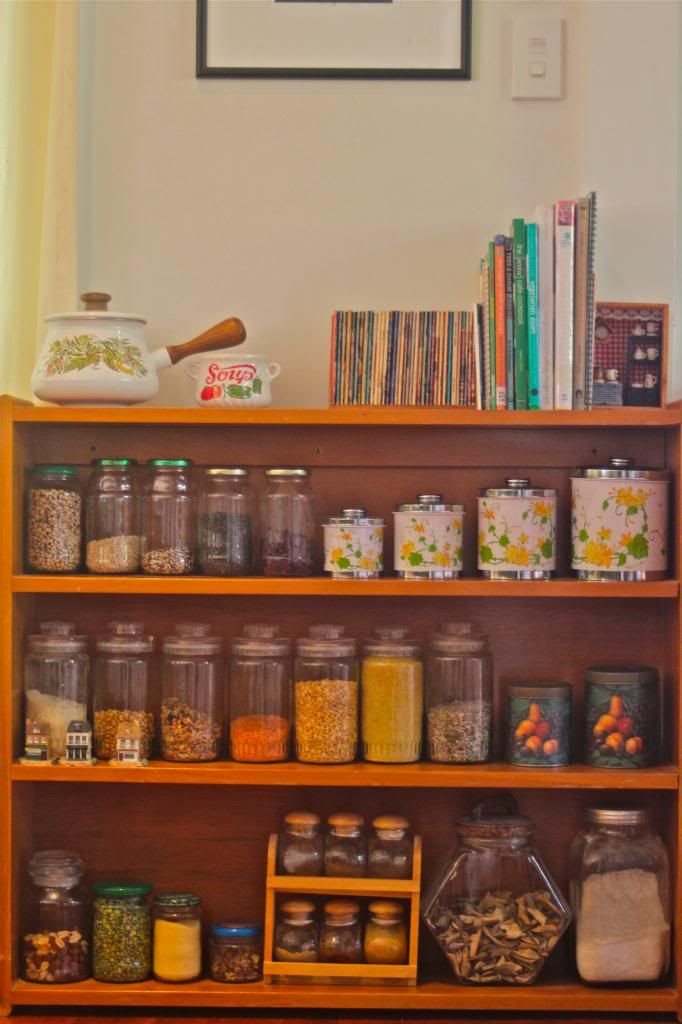 Dried Foods in Jars as Rustic Decor
As a vegetarian, I eat an awful lot of lentils, pulses, grains, specialty flours, nuts and seeds...which all conveniently come in dried form!
There are a few advantages to storing your dried foods in glass jars :
1. They last longer than keeping them in the pick'n'mix plastic bags.
2. It's a great way to recycle!
4. Because they look so pretty you can have them out for show in your kitchen, thus meaning you have way more pantry space.
5. Because they're out all the time, it's easy to see when you're running low. No more missing essential ingredients when your halfway through a recipe!
As you will see, Most of my jars aren't matching, which adds to the kitschy rustic feel. Not to mention it's ridiculously cheep or free! You can arrange them in height order, or in pairs of the same jars for things to look more uniform if that's what you like!
You'll notice by now the whole 'fruit and vegetable theme' has been decreased, but the same warm colour tones are used on my other shelves. This is a good thing. We do not want entire kitchens full of fruit an vegetable knick knacks! there's a little hint of the theme through the vintage fruit scene tins, fondue pot and soup bowl to tie things together in a more subtle manner!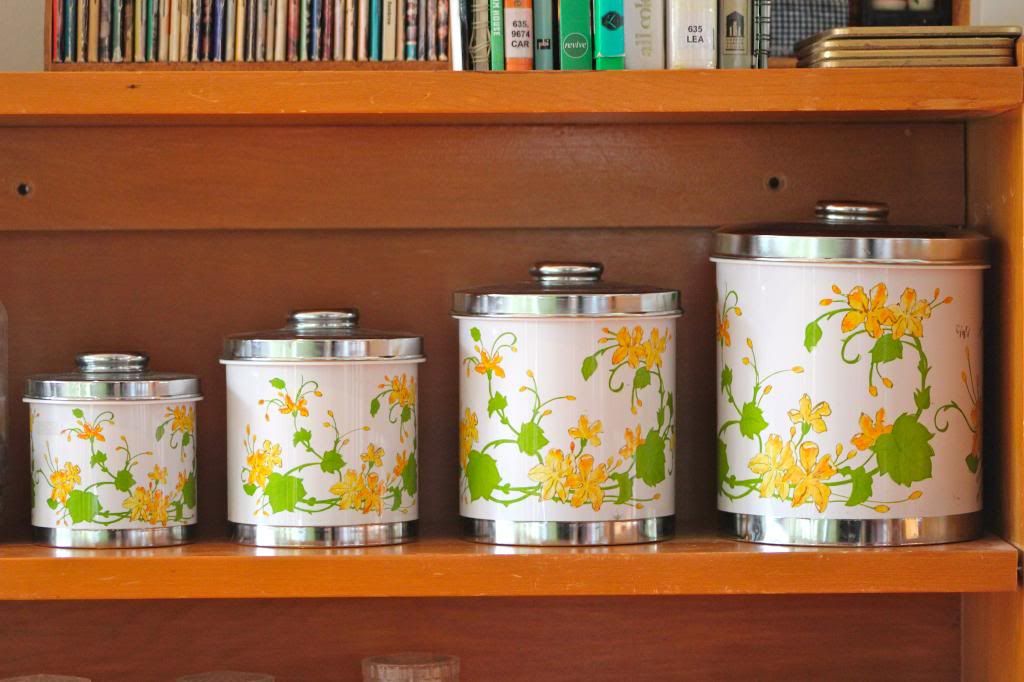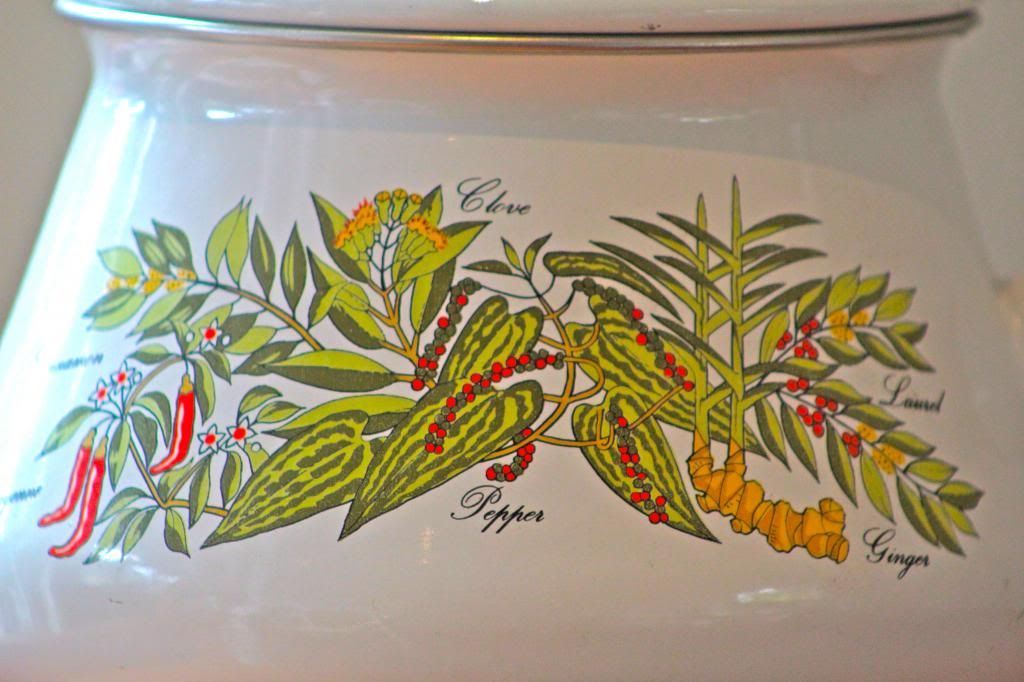 Thinking Outside of the Box for Storage in the Kitchen
When do you ever have enough storage space in the kitchen? I like to rethink the way we store things, instead of just in drawers or cupboards. I love using vintage tins and containers, particularly in sets of different sizes. The yellow floral set is where I keep my medicines tidily out of sight but in easy reach!
Once again, you can use beautiful statement pieces like a colourful fondue pot to store things in as well. Functional and cute!
So as you will see, there are no hard and fast rules when it comes to giving some corners of your kitchen a retro, kitschy feel...just have fun with it! Stick to a theme to save money, use unexpected objects, think about storage in a different way, and be a little crazy, try something new! Because it's such a cheap way to add some personality to your home, it is so easy to experiment, chop and change, or start all over again!
Start of with one little corner of one room at a time and see where it takes you!